Conference Venue
ACM/SPEC ICPE 2019 will be held in the Victor Menezes Convention Centre (VMCC), which is located within the campus of the Indian Institute of Technology, Bombay (IIT Bombay), situated in the suburb of Powai, in the city of Mumbai, India.
Read this page for information regarding the venue, how to get there, local transportation and other useful tips about Mumbai.
Victor Menezes Convention Centre, IIT Bombay
VMCC is a five-floor convention centre with a 350+ capacity auditorium and several other mid-size seminar rooms and conference rooms with a total capacity of almost 1300 seats. All ICPE day events, including the main conference, workshops, tutorials, meetings will take place in VMCC. There is a dramatic foyer area which will be used for posters and  demonstrations and lunches.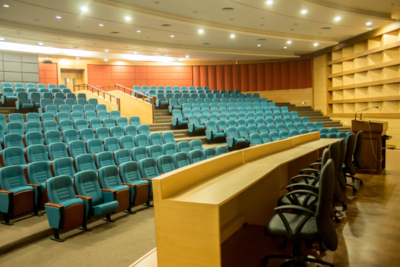 Getting to VMCC from your hotel
Air-conditioned (AC) Volvo  Buses will be arranged from the main conference hotels to VMCC to bring participants to the conference and drop them back to the hotels in the evenings after the conference. Alternatively, Uber operates very well in Mumbai and conference attendees can choose to commute on their own using Uber. (See "Local Transportation" section). While some conference hotels will be walking distance from the VMCC, it will be very hot, and we do not recommend this mode for international visitors.
IIT Bombay Campus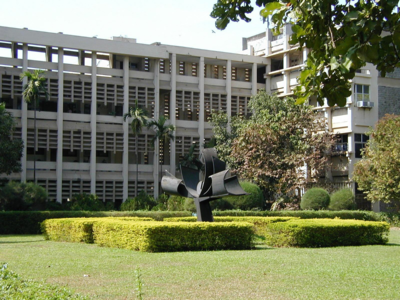 IIT Bombay is located in a 500+ acre campus in the northeastern suburb of Powai in Mumbai. The campus has a mix of old (about 60 years) and new buildings nestled in lush  green space. IIT Bombay is a residential campus, so student dorms as well as faculty housing is on the campus, and this makes IIT Bombay a township in itself.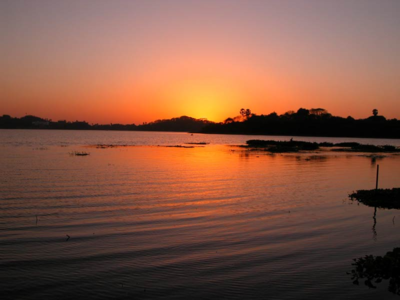 The campus is next to the serene Powai Lake and separated from a national park by just a few hills. A vigorous defense of green cover inside the campus and conservation-friendly philosophy of most campus residents has resulted in IIT Bombay being able to boast of diverse flora and fauna which co-exist peacefully with campus residents and academic buildings.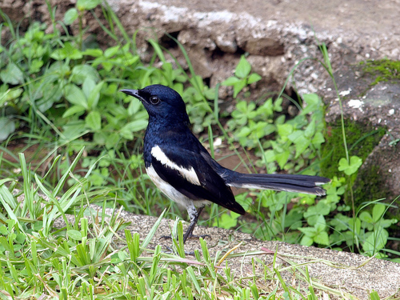 IIT Bombay campus is located in the suburb Powai, which is about 30 km north of downtown Mumbai ("South Bombay") and 10 km east from the International Airport. As you step out of the IIT "Main Gate" you are greeted by the frenetic buzz of regular Mumbai life in an area known as "IIT Market". At IIT Main Gate, a major highway of Mumbai (Jogeshwari-Vikhroli Link Road) intersects with the small bylanes of old Powai and the main road of the campus. There is an open vegetable market, scores of small shops, and residential apartment buildings. Those interested in watching the regular "Mumbaikar (Mumbai resident)" life can climb up the pedestrian footbridge at the Main Gate and just watch all the action at this intersection.
Just a little further west on the highway (still walking distance from IIT Bombay), a left turn takes one into a world of plush high rise apartment buildings, upscale supermarkets, shopping centres, and  trendy restaurants. Here, global restaurant chains and cafes (e.g. Chili's, Harry's, Starbucks) compete with innovative local entrepreneurs (e.g. Sodabottleopenerwala, Sigree, Chayos) to attract customers looking for different cuisines and ambiences. This area is known as "Hiranandani Gardens". Some accommodation for ICPE 2019 will be available in 4,5-star hotels in this area and organizing committee dinners are likely to be here (details will be made available later). Conference attendees can easily find a variety of interesting restaurants here for their evening meals.
There are four  ways to travel from Mumbai Airport to any destination within the city
Pre-paid taxis: There are official "pre-paid taxi" counters inside the airport before you leave the Terminal building, where you can book and pre-pay for a taxi. The rates are fixed, so the taxi driver can neither refuse your ride, nor can overcharge you. You should book a "cool cab" - an AC Taxi. Follow the signs to find the pick-up point. The vehicle will typically be an old Fiat or a Hyundai Santro - both are rather small cars. If you are arriving with many people and lot of luggage this may not be your best option.

Uber/Ola: Ola is a taxi aggregator service just like Uber. You may want to install Ola on your smartphone also so as to have multiple cab options while in Mumbai. Both Uber and Ola offer airport transfers in a variety of sizes of cars. They can be booked the usual way, from your phone. If your phone is not connected to the Internet, Uber/Ola can also be booked at counters inside Terminal 2, and also near their pick up points in the parking lot. Follow signs carefully, Ola and Uber have specific designated pick up points.

Pre-arranged airport transfer by a 'tourist taxi'.  You can arrange a pickup by a taxi driver who will have your name and flight arrival details and will wait for you at the airport. Watch this space - we will be posting a  list of recommended 'tourist taxi' operators with contact numbers and pre-negotiated rates to the main conference hotels. These drivers will be able to speak English. With prior arrangement, for a limited number of attendees, we may also be able to send volunteers to accompany the driver, for those travelers who feel they need special assistance in reaching their hotel from the airport. Watch this page for more details.

Airport transfer arranged by your hotel: Your hotel may arrange airport transfers for you. Check directly with your hotel.
IIT Bombay is located in Mumbai - a bustling metropolis of over 20 million people that is both the financial and the entertainment capital of India. Mumbai is a city of stark contrasts - where people featuring in Forbes billionaires lists live not too far from people struggling for mere survival. Miraculously enough, Mumbai manages to be a fairly efficient and safe city - where millions of people commute daily to work using local trains, buses, 'autorickshaws', taxis and on foot and work hard to achieve their dreams; working women here routinely travel alone late at night from work, in trains, buses and also alone in the yellow-black taxis or Uber/Ola taxis.
Mumbai is not a conventional 'tourist's city' - the discerning visitor should simply take in the vibe of the city and try and understand what makes it tick. Even so, while in Mumbai, you can spend  a day or two to visit South Bombay, where a large number of heritage buildings from the colonial era exist and are still very much in use. You could visit the 6th century Elephanta Caves (Hindu rock-cut temples on an island off of Mumbai) or the 1st century BC Kanheri Caves (Buddhist rock-cut monasteries at the northern end of Mumbai, inside Sanjay Gandhi National Park). You can also visit the charming suburb of Bandra, with its Churches and sea-side promenades.
Mumbai is very well connected by air to all the major cities in the world. If you fly by your home country airline, you are sure to even find a direct flight. International flights arrive to the new jewel of Mumbai - 'T2'- the  beautifully designed Terminal 2 building that doubles as an art museum for all sorts of art displays. When you land in Mumbai do not forget to take in all the art displays as you walk from the airplane to Immigration, (Hold on to your boarding passes! These are often asked to be seen by immigration officials).
There are several nice hotels in the vicinity of IIT Bombay. Details will be posted here soon once rates are negotiated.
Local Transportation in Mumbai
Conference related ferrying from a few main hotels to the conference venue will be arranged. If you want to travel locally on your own, the following are the options in the order of what is best for International visitors -
Uber (or the local equivalent, Ola) is your best option to travel locally. At the conference venue and in your hotels, you will have WiFi, but for this option, clearly you will need mobile data while not in these locations. Make sure you get a good international roaming data package before arriving here.

Booking a long-term chauffeur-driven rental car. 'Tourist taxi' operators can provide cars for rent for half a day, full day or multiple days. We will post names of recommended operators here soon. If you want to tour around Mumbai, we recommend this is as your best option.

The long-term rental option is also offered by Ola, this also works out very well, and at shorter notice than the conventional tourist taxi operators.

Rental cars for driving on your own - these are now available in Mumbai, but definitely not recommended for International visitors.

Yellow-black taxis. You can try hailing these for long distances (>10 km), but these drivers are very selective about where they want to go and will more often than not refuse rides if the destination is not where they want to go.

Yellow-black autorickshaws. These 3-wheelers can be fun rides to zip around short distances (< 5 km) at non-peak hours. In peak hours, it can be hard to find an empty one and these drivers are also picky about where they want to go.

Buses - the "BEST" bus network connects every corner of Mumbai to the other. However, buses can get quite crowded in peak hours, their timings are highly unpredictable, so we do not recommend these for international visitors.

Local Trains, Metro - these again, are the lifeline of Mumbai residents but can be daunting to use due to the extreme crowds. We do not recommend these for international visitors.

Walking - this is always an option for short distances, however note that you cannot always count on the availability of sidewalks in Mumbai. The conference hotels are close enough to walk (20-30 mins), but we recommend not counting on this as it will be very hot and walking and crossing roads in heavy-traffic areas in Mumbai is not straightforward.
Other Facilities in Mumbai
Mumbai has all the facilities of a modern city. There are plenty of luxury chain hotels, restaurants, malls. Credit cards (Visa, Mastercard) are accepted everywhere, and ATMs are easy to find where cards on the standard global networks will easily work. Cellular coverage is very good, we recommend you purchase an international roaming package with generous amount of data from your cellular provider. This will enable you to freely use Google Maps (Mumbai is mapped very well and you will get perfect directions, and never feel lost), Uber/Ola and even order a Domino's Pizza online if you get that craving during your visit here.
Weather in Mumbai in April
Mumbai will be quite hot in April (30 deg C). Temperatures do not vary too much through the day - evenings will be better but not that much cooler. The conference venue, hotels and any restaurants we go to will be air-conditioned, and if you travel in AC vehicles, you can escape the heat for the most part. However, do plan your attire accordingly.  No rain is expected in April.